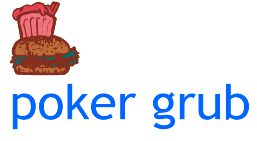 Read grubby at PokerWorks blog #2
Email grubby or grubette
(unless you specify otherwise, emails may make it into future grub posts)

---
Posts on This Page
Writings from Truckin'
Links
Poker Blogs
Thursday, April 04, 2013
No more Roger Ebert
Roger Ebert passed away today.


I was a fan ever since his PBS show with Gene Siskel. Every week I would watch them bicker about movies, both having valid points. I imagined they hated each other in real life but made nice for a brief moment to talk about their passion for movies.

No Internet then to access his column in the Chicago Sun-Times, so I waited for his book of movie reviews to come out every year and devoured everything wrote. His criticism led me to other critics, including Pauline Kael.

I looked forward to whenever Siskel & Ebert were on Howard Stern, as they continued bickering about things outside of movies.

I ran into Ebert once and met him twice, both through attending his shot-for-shot movie workshop.

Annually, I would make the trek through wet autumn leaves, driving to the University of Virginia to see as many films as I could during their film festival.

His class was sold out in advance, but I always booked further in advance.

The first workshop I attended was on Vertigo. He played the movie off laserdisc, and anyone could say "stop" to bring up a point or ask a question. He would respond, always with insight, always with humor and wit.

A precursor to a DVD film commentary, we did this over two days. It was an eye-opening experience, and because of that class, the movie quickly became my favorite.

I later bought a laserdisc player and got the CAV version of Vertigo.

The next festival I went to, I was early for another movie, and waited in the lobby. Ebert rushed in and asked me if he had the right theater for another Hitchcock movie that had already started. I said yes, and he thanked me.

But before he entered the theater, he backed up to the concession stand to order popcorn. Large.

When Siskel passed away, I was saddened but knew at least we still had Ebert.

And now no Ebert.

—

—
Wednesday, May 02, 2012
Feeling 18 again
While blowing off steam playing Mr. Cashman, I have a lot of time to think.
Usually, my mind wanders to past relationships, such as a girl I briefly dated 6 months ago who, according to Facebook, is now moving in with a guy and selling her place and is oh-so-happy.
I was never into her, proving much more neurotic than I am (and I'm more a faux-neurotic anyway), and she tended to prefer sweats and not shower.
Oh, and she wanted a baby.
And she always spoke her thoughts out loud.
The kicker was an email she sent, which got me to stop texting her completely:
Yikes man... I just got my cell bill and had an extra $16.10 in fees for all of those texts!

Gmail comes straight to my phone too so if you could pretty please try to email your lovely food photos, I would greatly appreciate it :)
I was a bit offended, as I thought she liked the food photos. I responded (by email):
Yeesh, you pay per text? Get on a plan, girl!!
Thinking she'd respond in a flirty way, she instead sent a serious email:
No - I was on a plan - 250 texts per month (but I think we exceeded that in like a day ;)

I payed for the overages... Like I said, there really isn't much difference in text v. email since both go to my phone (other than that email is FREE :)
I think she was trying to get me to pay for half.
But it was a good excuse to get out of talking to her.
(I just counted, and in the 1 month I knew her, I'd sent her 79 texts, and she'd sent 69 (told you I'm neurotic).)
This time, while losing too much on a stupid time-on-device Cashman Tonight slot machine, I thought back to the charity poker tournament a couple weekends ago.
Not a critique of how I played, but how that night was maybe pivotal in how I've officially crossed the line from "weird unmarried older cousin at family functions" to just plain weird perv.
After I lost, I was in a daze from drinking and not eating (which I offer as my excuse).
People shook my hand, offering congratulations for making it to 2nd place (even though it was the same as last).
The person running the foundation had his niece and nephew at the tourney, both of whom just turned 18.
The girl was getting me drinks throughout the tournament, and when I saw her standing there, she said, "Congratulations."
I said thanks. Then leaned in and hugged her. A little too hard.
It was a weird moment, made weirder by seeing the uncle next to her observing the whole situation.
I'll do things like this at bars or in Vegas, but an 18-year-old just seemed to be a pervy move.
But, well, at least she was 18.
—

—
Sunday, April 22, 2012
Mandarin vodka cranberries and charity poker
Every year there's a poker tournament in Chicago benefiting a charity that my company contributes to, and I'm lucky enough to be one of the people to play in it.
This year, Annie Duke and Andy Bloch were guests.
It's a winner-take-all, with first place getting a $10,000 Main Event seat at the World Series of Poker, airfare to Vegas, and a stay at The Cosmopolitan (my favorite!).
About 300 people played, and I was at the table with the person running the foundation, as well as two of his family members.

Moving around throughout the tournament, I was at four of his tables.

He ended up being a pretty good player, and the only hand I was against him was when his AK beat my KK.

But I was able to get away from the flopped Ace, and he kindly showed (later my KK held up against someone else's AJ, so it evened out).
Going into the first break, I had T7000 chips, with blinds T1000/T2000.

I then had a quick couple of double-ups, then kept going with a string of luck and good timing (not good cards, though; the two KKs were my best hands of the night).
I was also completely plastered, having downed six or seven Absolut mandarin vodka and cranberries in short time.

I only had a few of the vegetable and cheeseball hors d'oeuvres and was starving.

I was moving slowly when standing or walking, trying not to splatter chips everywhere.

I didn't even notice that I was making moves on Andy Bloch at the final two tables.

He was next to me on my left and was carrying some of his DVDs as his bounty.

When drawing for the final table, I took my chips to another table and sat down, not realizing it was the wrong one.
Besides the free booze, the benefit of a charity tournament is not many people know tournament strategy and are just playing their cards.

Particularly for a winner-take-all, it's the same coming in last or second place, so you might as well make moves and grab the small pots and blinds, especially when so many people are folding while nursing a stack that's less than 2x.
To get us out before they had to clear the room, they skipped the T40k/T80k level and went straight to T50k/T100k.

Not sure why they didn't just introduce antes, which would've cleared out people faster.
I think I played well but I was perhaps too aggressive.

I tried to keep it concentrated, attacking the blinds of people likely to fold but staying away from those who only had a couple chips to call (and even then I would do it anyway if getting a good price).

When they did, I tended to have crappy hands and sometimes got lucky.

I would also fold and sort of make a deal of it, so they'd know I wasn't just some maniac, and maybe think that I must therefore be pushing on good cards.
Toward the end of the final table, I knocked a few low stacks out when it's sometimes valuable to keep them in, especially when having to deal with an angry and belligerent drunk, who would stare me down with squinty eyes and call me a "joke" and a "tool" because I kept raising and kept pissing him off.

When he won a hand against me (I think I had 69o), he slammed the table with both hands, spilling some of his drink on his cards, saying, "Keep playing that way."

Really?

You're behaving like the stereotypical player?

In a charity event?

I maintained my composure and ignored him for the most part, but I did understand why he was angry.

I get that reaction many times when at final tables, where I play them like sit-n-gos.
As expected, though, I ended up heads-up with the drunk, and at that point it was a complete crapshoot at T200k/T400k.

There was nothing I could do but push and hope he didn't call, and unfortunately the more I did it, the more he realized he needed to do the same until he thought and thought before calling my all-in with 88, an easy call (I tried a reverse psychology move by saying, "I don't have much, but I have to do this" as I pushed… and I was planning on showing if he folded).

Alas, the 88 holds up well against my 23o (although I flopped a gutshot straight draw, just to keep things interesting).
When I went out in second, a friend said, "Today, Evil won."
Many people (even the dealers) congratulated me, shook my hand, took my picture… and all for not winning.

I noticed no one went up to him.

I think some took sympathy on me – I overheard one woman say that I had tears in my eyes.

That's thanks to getting older, where my right eye is constantly tearing up and I have to wipe it every few minutes.
I don't regret how I played, but I'm definitely bummed.

The seat would've been a waste on me, as I can't compete with WSOP players, but I would've tried to get as much of its equivalent value as possible.

I've lost much more than $10,000 this year already, so covering the taxes wouldn't have been a problem.

A friend won the same charity tournament a few years ago and had to pay taxes.

My one consolation to losing to Evil is that he's in for a surprise come tax day, whether or not he cashes.
There were a few nice things in the final table bag – a signed copy of Annie Duke's book (which I bought on Kindle but haven't read past Chapter 5 where she mentions The Hammer), a $100 gift certificate to a piano bar, a free buffet, Armani sunglasses, a 1-hour massage, 2 bottles of wine, 12 bottles of beer, tickets to a wine tasting, a small picture frame of the charity, some kind of liquor that looks like olive oil, and a free night at the hotel that sponsored the event.
That last one is why I stuck around, since I can give that to grubette to entice her to make another trip.

The hotel's pretty nice, and it's next to the hotel where she usually stays (and which has a shuttle to Horseshoe).
It's 3:45 a.m. now and I'm not tired.

Going to the boats crossed my mind, but I'm in for the night.
Though perhaps I'm due for the bad beat jackpot which is now $200,000.

Hmm…
—

—
Friday, March 30, 2012
Gambling on and after the lottery
I've never bought a lottery ticket before.
Scratch tickets this past weekend, yes.
But being a part of the largest jackpot in history is all I really cared about when I plunked down my hard-earned $1 yesterday.
Okay, winning would surely be nice.
And, well, I bought in for a bit more than $1.
The odds of winning $640 million (which I'm guessing will soar past $700 million by drawing time) is 1 in 176 million (in other words, I have better odds winning this jackpot than I do seeing a
Twilight
movie). Not bad at all. You can't not pick up a ticket. Though with numbers that big (and with the lottery commission saying that 95 percent of all numbers have already been covered – no idea why they'd want to state any kind of deterrent like that), it's likely that more than one winning set of numbers will win. If you're a $176 millionaire and spend it all on Mega Millions tickets, you'd be guaranteed to win, but you'd end up sharing and you'd get killed on the lump sum and taxes.
Last weekend, Illinois became the first state to allow online purchases of lottery tickets. Just in time, apparently. The site is getting hammered so much that it hangs when trying to login. I'm all set for the next time a jackpot balloons up to an advantageous state, though. That, or I'll self-exclude myself through the handy online form. Oh yeah, they accept credit cards.
I went in with other people on the first set, two more people joined in on the second set, and I was going to get $100 more on my own.
Luckily, there are plenty of 7-Elevens and convenience stores around me. There's no wait, unlike the insane 4 hours that hundreds of people in Vegas are doing in Primm Valley (which doesn't surprise me, because I've seen how long people wait in line at Station Casinos for a free soapdish).
I'm heading out to Horseshoe to play poker and am hoping their gift shop also sells tickets so I can grab a few more.
I haven't really thought what I'd do if I won, though gambling is high up on the list. That's how you know my gambling isn't to win or lose, it's the game of it. Why else would I have the desire to play Cashman Tonight when I can't possibly expect to win anything larger on that or any game in the casino.
Even at max bet.
—

—
Friday, March 09, 2012
Starting a casino fight
When I enter a casino, I first do a walkthrough around the Cashman Tonight slot progressives to see if they're worth playing.
One was: the Major Progressive was at $850 (resets at $250). Alas, someone was already on it.
What I usually do is sit nearby and play, knowing I can outlast that person. Slots being slots, you can't win the longer you play. But I'm willing to lose a lot more than the average player.
Or I'll leave and come back, checking to see if it's hit yet.
I wanted that $850, so I sat to her left and began banging on another Cashman Tonight, whose Minor Progressive was $60 (resets at $25). Decent, but I focus on the Major.
A guy and older woman then stopped by and commented on the Major. The guy said, "I was playing when it was $559.63 and never hit one bonus."
The older woman, who I assumed was his mother, sat to the right of the woman at an empty slot and stayed quiet.
Both proceeded to do something I haven't seen before. Without playing their own game, they just sat and stared at the woman next to them.
Usually when players stare and watch your game, they stand behind you. A quick glance at them and they'll look away or keep walking. But setting up shop in the seat next to you and not only staring at you but commenting on your bonuses?
That was over the line.
It was unsettling, as bad as someone blowing smoke in your face to get you to leave.
It was obvious they wanted her machine, and they were annoying enough that I would've left.
Had I not wanted her machine as well.
When my Mr. Cashman Love Meter bonus triggered, I was awarded an amount and I elected to trade it for something potentially bigger. I got something smaller instead, and the guy said to his mother, "He should've kept the first pick, look at that."
I had enough and turned around.
"Do you mind?" I said.
"What?"
"You're standing too close."
He didn't respond and backed away to his mother, then switched to just commenting on the woman's bonuses, even talking directly to her and congratulating her on her wins and sympathizing on her losses. The woman and I exchanged glances, silently questioning why these vultures were alive, much less hanging around.
The guy said he was going to get a free t-shirt upstairs and that he'd be back.
The woman and I looked at each other, and she rolled her eyes.
"They want my machine," she said.
I said a bit loudly so the mother would hear, "I can't believe they're just standing there watching."
The mother perked up, like a dog's ears hearing his name. "Excuse me?" the mother said. "Are you talking about my son?"
"You're bothering players," I said, then dismissed her by going back to my game.
The mother stood up and said, "We have every right to be here. This is public property."
Which it isn't. I kept ignoring her, debating my options:
Argue? Like talking to a wall.


Call security? They wouldn't have done anything. Maybe I should bring a knife so I can plant it on annoying players and then get them thrown out.


Fight? I didn't really want to get into a fight with an older woman because it could end up like the fight at the Motor City Casino buffet in Detroit. And it wasn't that I didn't want to fight, it's that I didn't want to potentially be on YouTube.


Keep playing? They wore me down.


Hire them? If they were always around when I wanted to play, I would never play.


Leave?
The mother sat back down and returned to silently staring. I played another 10 minutes, then cashed out and left.
Waiting for the good machine wasn't worth putting up with annoying people.
And then I realized, I was also waiting on the same machine, so really how was I that much different?
—

—
Monday, March 05, 2012
Easy cure for gambling (plus another royal)
At Majestic Star, I've gambled and lost more in February than any other month there, yet I've been downgraded to $40 freeplay per day. This was from a high of $120, then $90, $75 for a couple months, $60 for a couple months, and now $40.
At Horseshoe Hammond, I'm also down to $15 freeplay per day, from a high of $75.
Four Winds and Blue Chip have followed suit at $25 and $30 respectively, and those are weekly. Also, no more free massages or steak dinners at Blue Chip. I used to go every weekend, but I've skipped these two for February.
I've been going to Ameristar more often now, but those offers are barely on the radar so far. I have $80 freeplay but one time only in March.
My heavy video poker play is taking its toll, reflected in much lower comps.
While I'm still playing slots, I split about half the time on video poker now, which may allow me longer play but I still lose the same amount or more since I'm generally chasing big progressives. My game of choice is Super Times Pay Double Double 10-play at a nickel ($3 per spin) or quarter ($15 per spin), which gets me a lot of hands in fast, because I really want another royal.
The long and short of it, though: no more casino trips.
Or not as often.
I'm driven by freeplay and gift offers, and the less I get, the less inclined I am to go out of my way to visit. Which is a shame, because if the gambling marketing psychologists employed by the casinos were to study my stats, they'd see I rarely take just the freeplay and run. I usually run through it all, then much more of my own.
In the long run, I'm going to save a lot of money. All I have to do is not go.
A couple years ago, grubette and I were playing poker at Harrah's Rincon, and chatting with the dealer, we asked if he played.
"Oh no, I never gamble."
grubette said, "You must be rich."
On Friday, I went to Horseshoe Hammond and by chance met up with some friends. We put our names on the poker waiting list, then played video poker while waiting. One played Deuces Wild, and on her fifth hand she got 3 Deuces and then the beautiful fourth one on the draw. She thought she was betting quarter but was actually betting 50 cents, so was surprised to see the win meter go up to $500.
While she was buying drinks for everyone, I slid into her machine, switched to Double Double Bonus, and played through $20 with nothing of significance. I got my beer, their names were called, and a few hands into my second $20, I got dealt 4 to a royal.
47 cards left in the deck, but I've been in this situation so many times that I no longer pause and savor, I just hold the four and draw. Heck, I'm way overdue on just holding 4 to a flush and connecting, much less 4 to a royal.
And up pops the one card that I needed: the 10 of spades.
I was shocked at what happened that I hit collect before taking a proper picture of Royal #4.
I then played a rousing game of 3/6 limit for the next 5 hours. I straddled, raised blind, raised with bad cards, raised with good cards, bluffed with Ace high, and overall just had fun throwing chips around with three other friends at the table.
When they left, we were shorthanded and the game got interesting and much more difficult. Certainly more difficult than was worth sticking around waiting for the $140,000 bad beat jackpot hand (quad 8s beaten).
I left the table even, giving me enough time to grab overpriced $11.95 wonton soup at the noodle restaurant (closes at 5 a.m.), then go to Majestic to pick up freeplay and then stay till 6 a.m. when their casino day switches over so I could get the next day's freeplay.
Only on the way out, I spotted a Cashman Tonight with two high progressives, and $200 later I'm cursing Cashman because I couldn't even get one bonus.
It's 5:35 a.m. and I should've just gone home, but I went ahead to Majestic, got there with 1 minute to spare, ran upstairs to a bank of $1 Double Bonus, where the progressive was a whopping $7700, and started playing while catching my breath from the most amount of exercise I've had in a couple months.
Both freeplays disappeared quickly, and so did $500 more without getting anywhere, so I broke away, helped by falling asleep at the game.
Went to Whale Song, whose major progressive was $3600 (reset is $500), and after $200 hit the bonus four times but couldn't get either of the progressives.
Then to Tarzan, where I blew $200 more without getting the wheel bonus.
Then picked up two food comps that I spent on peanut M&Ms and Diet Cokes, then went home at 9 a.m., almost falling asleep a couple times while driving.
And the rest of the weekend, I didn't pick up the free griddle, cupcake maker, hair dryer, or luggage from the various casinos.
And hence, I didn't gamble any more, essentially breaking even after that royal.
This is as good as going to Gamblers Anonymous. I hope.
—

—
Friday, March 02, 2012
A review of Love Never Dies (sequel to The Phantom of the Opera)
I'm a
Phantom of the Opera
apologist.
Namely, I love the musical and have seen it many times (three times just in Las Vegas) and used to listen to the score over and over again, getting multiple versions back when CDs existed. I regaled my captive family with verses from it while driving from California to Vegas, to the chagrin of grubette's ears.
I even liked the movie with Arnold Schwarzenegger as the Phantom (or am I getting Joel Schumacher movies confused).
I was in London in January 2010, two months before the sequel,
Love Never Dies,
premiered (one month before previews), and I was bummed that I just missed it.
A couple of the songs they released sounded really good, at least on par with the original
Phantom,
and I hoped it would be a massive hit so that it would come to Broadway.
It wasn't and didn't, getting panned in London and canceling any stateside appearances. It also closed early in London, and it looked like a goner.
Two years later, Andrew Lloyd Webber reworked the score and book and came up with another version, which premiered in Melbourne. They filmed one of the performances, then released it to movie theaters around the U.S. this past week.
I found out about it on Tuesday, the day of the broadcast. Happy about the serendipity, I checked it out.
$18 plus $2 parking is steep. Cheaper than what a theatre ticket and flight to New York would be, but knowing they'll inevitably release this on DVD and Blu-Ray, $10 seems like a better price.
Filming a stageplay – much less a musical – is daunting and never translates well. I have VHS (cough, cough) tapes of some of my shows and I can't even look at them, knowing I'd hear the echo and audience overwhelming lines. And overacting of the bad writing.
But technology has definitely caught up, and the multiple cameras were placed right on stage, capturing a lot of nuances you couldn't see if you were in the balcony. The sound was phenomenal.
I mostly enjoyed it, but I can see why people didn't connect with it. I don't know what the London version was like, but even Australian version was lacking.
For one, there really doesn't seem to be an audience for new musicals anymore. I was one of five people in the audience (two gabby girls sat right behind me).
For another, a sequel to one of the longest-running musicals of all time seems sacrilege and perceived as selling out.
And, what more story could there be?
Apparently, not much. The book is the main problem, with plot issues aplenty and a very toned down Phantom who's lost his menace. Musically it's fine, with many callbacks to the original.
It airs again at your local movie theater on March 7. I may see it again.
SPOILER ALERT
, I suppose, as I attempt to summarize the messy plot.

Act I

Once upon a time, the Paris Opera House went up in flames according to the end of the movie starring George Clooney, and the Phantom used the insurance money to skip town, buy a new puffy shirt, and head to Coney Island, along with Madame Giry and her daughter Meg. He sets up a successful freak show called Phantasma (hint, hint) where he can easily blend in, but keeps lamenting about being 10 long years older and going gray and oh yeah, misses the hell out of that young ingénue, what was her name? Oh yeah Christine, the subject of his obsession whom he gave up to her fiancé Raoul because as Sting says, feel free, set them free. And she gave him his first kiss, which launched a thousand ships in the Phantom's pants.

Christine is now married to Raoul and they have a 10-year-old son Gustav, who's musically inclined (hmm…) but Raoul virtually ignores him, preferring instead to drink and gamble away all of Christine's singing money. Before she ends up dead in a bathtub and eulogized at the Grammys, Oscar Hammerstein makes her an offer she can't refuse: come perform in his new show in New York, because Julie Andrews dropped out.

They arrive, flanked by paparazzi that catch us up to date with exposition. Then a mysterious horseless carriage appears with some circus freaks, promising to take them to Hammerstein, when we know full well it's a ride to hell, or at least the Phantom's loins. The Angel of Music found out about the Hammerstein offer through a newspaper article, and good thing Giry kept up that subscription to the Times.

Holed up in a lavish suite, Raoul runs through the mini-bar then goes to look for a nearby casino after refusing to play monkey robot with his singing kid. Christine thinks she's looking older, but she was just peering into the mirror at The Phantom, who was presumed to be dead.

Christine's like, "How dare you not tell me you were alive?" And The Phantom's like, "Woman, I don't have wi-fi, and want you back in my lifesize doll's wedding dress. Do you still like like me?" And after a song, they fall into each other's arms again.

The Phantom doubles Hammerstein's offer of $10 American money if she sings just one song he composed for her from his sequel to Don Juan Triumphant, adapted from the movie starring Johnny Depp, and she has to accept because Raoul can't stop that crazy addiction to the Sex & the City slot machines.

"It's beautiful," Gustav keeps saying, and after an hour of reflection, The Phantom realizes, "Hey, you're 10 years old. I'm 10 years older. Last time I saw Christine was 10 years ago. Ergo, you're my son!"

They didn't have sex or anything, they just shared a kiss, but maybe there's a Jesus Christ Superstar allegory going on.

The Phantom shows off his new lair of freaks. "It's beautiful," Gustav says.

The Phantom says, "It's all yours, Charlie Bucket."

Little do they know Mme. Giry was eavesdropping the whole time, with growing jealousy and hatred because she thought the Phantom would give her and Meg the freakshow when The Phantom keels over in 60 years.

Uh oh, all hope is lost. Time for a drink in the lobby.


Act II

The Phantom catches up with Raoul and plays heads-up poker, where he rivers a straight flush to his quads. No bad beat jackpot. Devil Take the Hindmost.

A deal is made: if Christine sings, all their debts will be paid, but Christine will stay with The Phantom. But if Christine doesn't sing, they leave with nothing but memories of New York and a free toaster from the casino.

We cut to Meg in multiple bathing suits. She harbors a crush on The Phantom but he never comes to see her sing. It's always Christine Christine Christine.

It's now the night of the song, and Christine tries on sapphire earrings. Devil Take the Earrings.

Will she sing? Will the chorus girl sing? She finally does, flanked by a gaudy peacock dress.

Everyone gives a standing ovation to Christine, all except Oscar Hammerstein.

And no one dies. Yet. The Phantom comes out of the foreshadows and Christine is like, "Where's my boy?"

The Phantom's like, "Woman, I ain't no babysitter."

They check the dressing room, and Raoul left his signature rose with a note that he's leaving or committing suicide or playing blackjack, hard to tell with all the tears smearing the ink.

It's Giry! She kidnapped Gustav because the freakshow can't all go to him since he didn't do any of the hard work.

Well no, what a twist, it's really Meg who kidnapped Gustav in a plea for attention and maybe her own sequel.

Everyone arrives at a bridge, where Meg has a gun to Gustav but then she points it at her own head. The Phantom sings something and struggles with Meg, then the gun goes off, and Christine goes down.

"What have you done?"

"It's beautiful."

"Sing now, for me."

"This doesn't look like Safe House to me."

The Phantom holds Christine in his arms, and Christine tells Gustav, "That's your real baby daddy. And oh yeah, I'm pregnant again. Enjoy."

Suddenly Raoul shows up for some reason, and The Phantom shirks his fatherly duties and hands Gustav over.

But Gustav approaches his real father and removes the mask.

Then the play ends and everyone gives a standing ovation, except Oscar Hammerstein, who was dead all along.

—

—